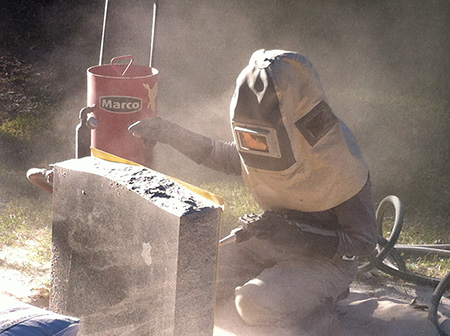 Sandblasted headstones in Falmouth, MA are a premier choice for grave markers because of their absolutely stunning appeal. Sandblasting allows designers to create different textures and tones on the headstone, for a finished appearance that's distinct and detailed.
At Baker Monument Co., one of our specialties is sandblasted headstones and we work hard to create stunning grave markers that are unique to your loved one.
How it Works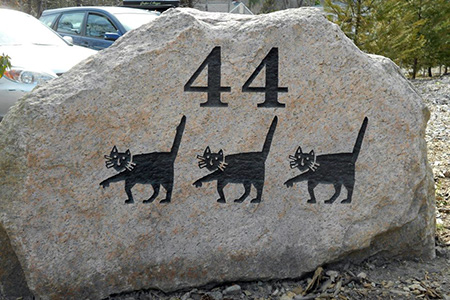 Stone like granite or marble is textured and traditionally, this texture is polished to create a headstone. Through sandblasting, artists are able to shape the natural texture of stone to add depth and dimension to it. Sandblasting can add bevel and surface texture, which is shaped into everything from unique patterns and designs to pictures and words.
We use precision sandblasting to personalize your monument, taking care to make sure every detail is immaculate. We work with you to pick out stencils and patterns that appeal to you, then seamlessly bring these qualities to life on a headstone with the utmost care.
What Can be Sandblasted
Sandblasting provides the fundamental design for a gravestone and isn't generally used for small details—that's where our mobile engraving in Falmouth, Mashpee, Barnstable County, and Cade Cod, MA comes in. Instead, sandblasting is used to create the texture for the headstone. To that end, the following details can be sandblasted:
Borders and patterns
General artwork
We'll be glad to work with you through our mobile engraving services if you have a specific design in mind and through a combination of sandblasting and engraving, we'll bring your vision for the perfect gravestone into being.
Customize a Headstone
Contact Baker Monument Co. today to learn more about our capabilities when it comes to sandblasted headstones, mobile engraving, bronze markers, and other custom headstones. We'll take the time to consult with you, helping you choose the features and textures that are right.
You can count on us to produce a finished product that's inspiring and beautiful—perfect to honor the memory of the person you've laid to rest. Reach us today at 508-548-0727.